Make your home more energy efficient.
We've Got a Loan For That!®
The cost of replacing or repairing your roof can get expensive. A Carolina Trust Home Smart Loan is equipped with low rates and flexible terms, making any roof repair more affordable! Increase your property value and make your home's energy bill and carbon footprint smaller.
Enjoy the Benefits of Being a Carolina Trust FCU Member
Borrow Up to $25,000
Low Loan Rates*
48, 60, 72 Month Terms Depending on Amount Borrowed
No Payment for 60 Days**
Why Choose Us?
For over 60 years, Carolina Trust Federal Credit Union has provided our members with a better way of banking. As a not-for-profit financial cooperative, the Credit Union returns profits to member/owners through competitive rates, lower fees, personal attention and innovative services. Membership is open to business owners and residents of Horry, Georgetown, Marion, Williamsburg, and the southern part of Florence County, South Carolina as well as Brunswick County, North Carolina.
Our members know that they can count on us to provide competitive loans and credit cards, mortgage options, and traditional consumer and banking services but with lower fees. Our members expect us to stay up to date with new banking trends like free digital banking with mobile deposit, instant issue debit cards and eAlerts for real-time account management. They depend on us to follow up, follow through and lead the way for other financial institutions.
Please note, the application review and approval requires a minimum of three business days to process. All loan requests are subject to credit worthiness and Carolina Trust Federal Credit Union underwriting standards. A professional invoice from Home Service Provider is required to process your Home Smart Loan application. Loan proceeds will be made payable to the Home Service Provider performing the professional services.
Member acknowledges and agrees that Carolina Trust is not providing any Home Smart Services to the member. The member is free to choose any individual/professional of his/her choosing in selecting someone to provide Home Smart Services. Carolina Trust is not steering member in the direction of any particular professional/person to receive Home Smart Services.
*Rate and terms subject to change without notice. Loan approval and approved Annual Percentage Rate (APR) subject to credit worthiness. Advertised APR includes a 0.25% rate reduction for automatic draft. Payment Example: A loan amount of $15,000 at 7.24% APR for a term of 60 months would result in a monthly payment of approximately $298.72.
**First payment deferral is optional. If you defer your first payment, your monthly interest payment may be higher than non-deferred payments. Interest charges will continue to accrue at the agreed rate stated in loan agreement. Terms and conditions subject to change without notice. Membership open to community; not required to apply for loan but required prior to funding. Contact the Credit Union for specific details. This credit union is federally insured by NCUA.
We Are Here to Help!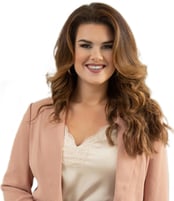 August is your 'personal concierge' to answer questions and connect you to the right people here at the Credit Union. Contact August at brandambassador@carolinatrust.org. Follow August on Instagram @successinthebag or subscribe to her blog here for helpful resources, such as free budgeting eBooks and worksheets, tips for improving your credit score, managing debt, local events and much more!